July 27, 2021
NAFE Board and Academy Members,
Douglas Adams wrote, "We all like to congregate at boundary conditions: Where land meets water. Where earth meets air. Where body meets mind. Where space meets time. We like to be on one side, and look at the other." This summer we find ourselves on the boundary of Used To and GET To, no longer stifled by Never Done It Before.
We can engage with both the wider forensic engineering industry and the public at large – we've done it before.
We can share our collective and individual knowledge with scholars and engineers across the globe – we've done it before.
We can dramatically change our online presence – we've done it before.
We can provide consummate virtual content – we've done it before.
We can establish, nurture, and reshape our relationships with relevant professional societies – we've done it before.
We can, personally and collectively, navigate a global crisis while maintaining our principal mission – we've done it before.
This is not the first time we straddled a border and collectively chose to do more than look - to step to the other side. Previous Academy members shepherded NAFE through significant changes in our leadership, our journal, our conferences, our membership, and our expectations of one another. Now we GET To.
So, to the 2021 NAFE Board of Directors, Committee Chairs, committee members, and volunteers, thank you for continuing to serve the Academy. It is not easy to find time for the volunteer Board activities, on top of your paid work and family commitments. You have done so with optimism and skill.
I am thankful for two great sounding boards, Executive Director Rebecca Bowman and President Elect Sam Sudler, both of whom provide a rational perspective tempered with humor and kindness. I am grateful to Mike Leshner, Marty Gordon, Bruce Wiers, and Jim Petersen, for their guidance and support. I am inspired by John Certuse, Richard Rice, and Dan Couture who have an exciting vision of the Academy and the passion to share it. I am indebted to Joe Leane, Robert Peruzzi, and Steve Pietropaolo who stepped into roles with big potential and little guidance. Their efforts to bring increased professionalism and structure to the business of running the Academy will have reach far into our future. I Get To work with a remarkable team.
We would not have made it through 2020, much less the momentous changes in Academy electronic systems without the extensive and detailed work of the Website Committee lead by Mike Leshner. Their work is on-going. They could use some help if you are looking for a way to get involved.
And that, as we look ahead, is ultimately how the Academy will accomplish all that we can GET To beyond this emblematic boundary. You GET To be involved. You GET To shape how we grow. You GET To cultivate the next iteration of NAFE.
And one last GET To – we GET To see one another again in Tucson, Arizona on January 2021. Details and updates will be stared through nafe.org and email.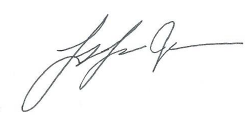 Liberty L. Janson, PE, DFE
2021 NAFE President